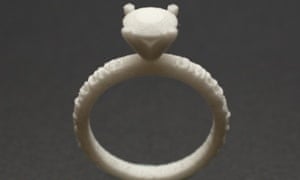 From South Korean beauty products to that envious feeling when an Ocado van pulls up outside someone else's house, internet shopping has given us so much. The latest innovation? 3D-printed engagement rings, set to "truly revolutionise the online buying industry," according to jewellers Brilliance.
Here's how it works: first, the proposer-to-be chooses a selection of diamond shapes and weights from the company's website. Next, they are sent a selection of 3D-printed rings containing mock-ups of the stones, to help "replicate the in-store shopping experience", and allow them to "touch and feel different shapes and carat sizes on your finger", a physical experience the company says is crucial for "such a specific, emotional and expensive purchase" as an engagement ring. And then they make their selection.
And yet there are so many questions. How can a 3D ring demonstrate which metal works best with your skin tone? Can it give a sense of a diamond's clarity, colour and weight? And most of all, who will try it on? Surely the person to be proposed to – rather than the proposer – is the only person who can really judge how the thing looks on their finger? Are we entering a less romantic world, where proposals will be made with mock 3D rings, allowing the proposee to give their feedback before the final version is made?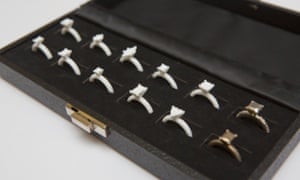 The only way to find out is to order some – but when 12 ring-like creations arrive in a plush black velvet box in the post it only adds to the confusion. Ten are pure white, fashioned from a dusty, chalky substance, like the ghost of a ring – something Miss Havisham might wear while sobbing – or a conceptual piece of jewellery by Martin Margiela. Two are metal versions – one a shiny silver, the other an unpolished bronze. Each features a different cut of "diamond" – heart, pear, emerald, and so on – but all are rendered in the same very high mount, meaning that the largest "stones" poke up from the fingers by more than a centimetre. All have the same thick ring band, and all are much too large for any of the fashion desk's fingers, meaning they feel no more like wearing rings than shoving your fingers into Hula Hoops.
And yet, Brilliance claims, it is sending out "between 100 and 250" of the 3D rings a month. The company's COO, Jonathon Ohayon, attempts to explain over the phone. First, he gains my trust by telling me he is a "ring size whisperer" then proves it: "I can tell you are smaller than most – around 4 1/2," he says, with startling accuracy. I'm now basically sold.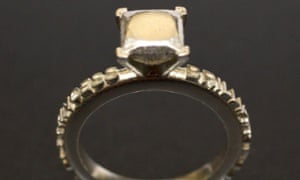 The idea came about, he says, because online jewellery shopping is booming – mark-ups are far lower than local jewellery shops, with a far greater variety of diamond stock – but "the one thing we lack is allowing customers to touch and feel. This way, women can see which stones and shapes compliment their fingers. Maybe a marquee pear shape might be best for longer fingers, or round might be more complimentary for short. They can also see whether one carat is too big or too small when they have it in their hand – that can save them a lot of money." So if it is the wearer of the ring whose hands are being road-tested, should they be used for proposals? "That's a cool concept," he says, "but people still want the fairytale so I don't think so. I don't think my wife would have been too happy with that." Hmm. And if you want to see the cut or clarity of the stone? "That is definitely something that has to be seen in person," he says. If a customer orders a stone and doesn't like it? "They can return it – they are not locked in at all."
So there you have it. 3D-printed engagement rings. Great for demonstrating the size that a certain cut and carat of diamond would work out to in the flesh. Pretty useless in every other way. As objects in their own right, pleasingly Martin Margiela. Place your orders now.
Source:http://www.theguardian.com/fashion/2015/feb/05/3d-printed-engagement-rings-the-future-of-jewellery